Web Design
Design compelling web pages and develop professional web graphics

The Chubb Institute's Web Design Program teaches you the skills you need to jump into the fast-growing field of web design, enabling you to design Web pages, maintain Web content, and develop Web graphics.

Special emphasis in the Web Design Program is placed on giving you a firm foundation in the basic principles of Structured Analysis and Design and real-world Web site creation and methodologies.

Web design technologies learned in the Web Design Program:
Macromedia Dreamweaver
Adobe Illustrator
Adobe Photoshop
Macromedia Flash
XML
HTML
DHTML
JavaScript
Microsoft Office 2000
Plus, an introduction to Adobe GoLive and LiveMotion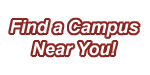 All programs are not available at all campuses. Please check your local campus for program offerings. Not affiliated with the Chubb Group of Insurance Companies.