Networking
Become an information Technology professional that designs and develops computer-based communication systems.

Today's companies depend heavily upon their Information Technology (IT) organizations to keep their communications constant and employee productivity at record highs. The Chubb Institute's Networking Program provides special training for future careers in this field.

Network Administrators, Analysts, Technicians, and Engineers have become integral players in their IT organization's ability to accomplish corporate goals -- and their skills are in demand.

The Chubb Institute's networking program provides training in:
Linux
Cisco Overview
Windows 2000 Professional
Windows 2000 Server Intro
Microsoft Office 2000 Professional
Outlook 2000
Lotus Notes
Networking Concepts
Novell NetWare 5.1 Intro
Windows 98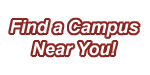 All programs are not available at all campuses. Please check your local campus for program offerings. Not affiliated with the Chubb Group of Insurance Companies.